Illinois state Rep. Dan Swanson (R-Woodhull)
Just months after leading the campaign to mandate insurance coverage for long-term antibiotic therapy for individuals with a tick-borne disease, Illinois state Rep. Dan Swanson (R-Woodhull) has now been appointed to the Lyme Disease Task Force.
"Getting the word out about Lyme Disease and its sometimes complicated diagnosis and treatment has been of critical importance to me on behalf of the patients I represent in the 74th District," Swanson said in a press release following the announcement.
Swanson's appointment comes courtesy of House Republican Leader Jim Durkin, who undoubtedly recognized Swanson's long and devoted history of fighting the disease, which includes tirelessly working to pass House Bill 889. In 2018, Swanson also worked to pass legislation known as the Lauryn Russell Lyme Disease Prevention & Protection Law, which was named after a Mercer County Jr. High School student.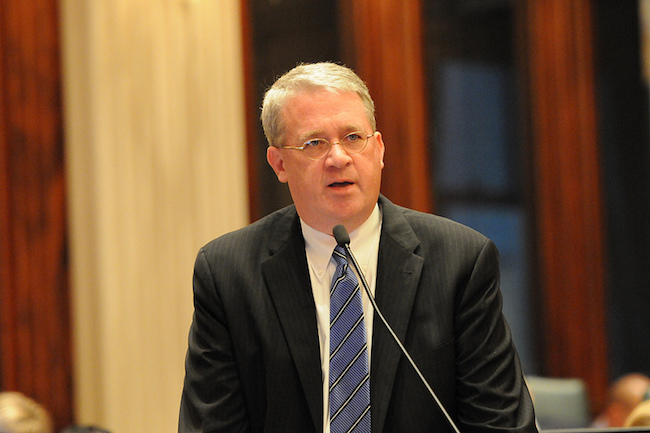 House Republican Leader Jim Durkin (R-Western Springs)
He likewise hosted the Tick Talk 101 educational event with a Spotlight on Lyme Q&A last Fall in Woodhull.
"The ability to receive treatment when you have previously been insufficiently treated is life-changing," Swanson posted on his website after the passage of HB 889. "By mandating insurance coverage of the long-term antibiotic treatment needed for some patients, we are putting another piece of the puzzle into place for these patients."
Swanson was able to help shepherd HB 889 though the House without dissent despite stern opposition from myriad insurance companies and underwriters. The Senate also went on to pass the measure by a vote of 58-0.
Advocates for Lyme Disease sufferers argued that the current recommended treatment of the disease, 10 to 21 days of antibiotics, was hardly enough for individuals with acute or long-term levels of the disease.